The Hub & Spoke Model Of Akhand Jyoti Eye Hospital
Making a difference to curable blindness in Bihar
Setting up vision centres across Bihar for uptake of eye care services among lower economic strata and rural population.
A New York Times survey reported that in a developed country like the USA, respondents feel that blindness is more dreaded than contracting HIV/AIDS.
Imagine then, the stigma attached to blindness in Tier 3 & 4 villages in low-income states like Bihar in India where eye care services are practically nonexistent.
With no access to even primary eye care services, it is estimated that at least 5 million people in Bihar alone are visually impaired with no help in sight.
Akhand Jyoti aspires to open over 150 vision centers across Bihar and Eastern Uttar Pradesh in the next 5 years by 2027, to bring access to eye care to the rural communities. 11 vision centres have been set up across Bihar in 2021-2022 taking the total count of Vision centers to 21.
These vision centers are strategically positioned to align with Akhand Jyoti's 5 Secondary & Tertiary Surgical centers to create a 'Hub and Spoke' model for uptake of eye care services among lower economic strata and rural population.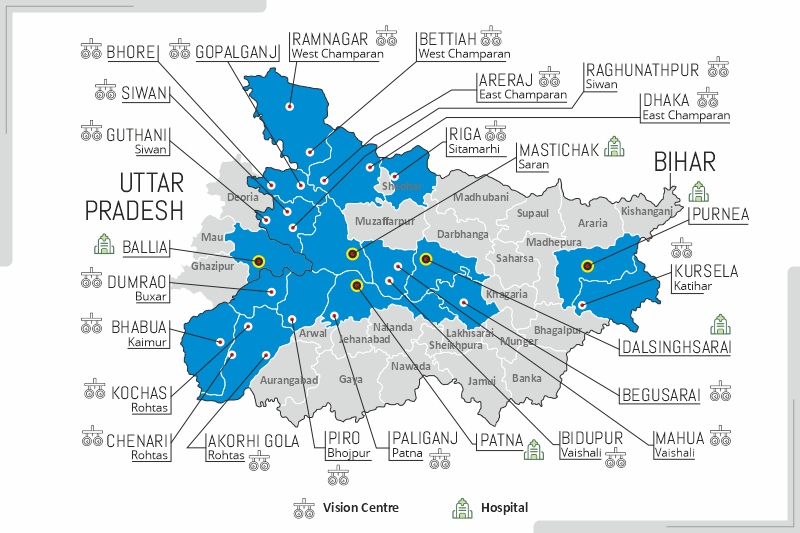 Importance of a vision centre
In low-income states like Bihar in India, around 90% of the blindness prevalence is amongst the rural population, whereas 70% of the available ophthalmologists are either doing private practice or associated with Non-Governmental Organisations in the urban areas.
With a lack of adequate secondary and tertiary eye care facilities in the region the utilisation of services remains low in the rural areas. There is a vacuum existing due to the lack of organised primary eye care.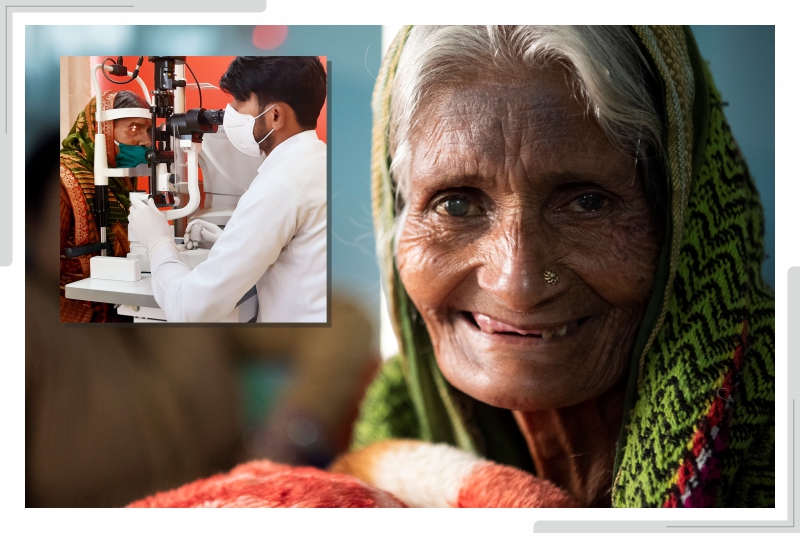 Further factors such as money, unaffordability of the services, indirect cost incurred in terms of travel, lost wage of accompanying person etc. makes it more difficult for the poor man to access eye care services.
Psychological factors such as taboo, fear of surgery, unwillingness to go to the hospital at a distant place, long waiting time before and after consultation, going for follow up etc. also add to the problem.
Akhand Jyoti's solution
Realising these facts, Akhand Jyoti Eye Hospital envisaged the model of vision centres in which the focus is to create permanent access to primary eye care services for the rural communities at an affordable cost.
These centres give the most meaning to Akhand Jyoti's philosophy of 'Working where it matters'. Strategically located at the heart of the rural hinterlands, they are closest to the marginalised communities we strive to serve. They are established at places where there is minimal or virtually no presence of affordable and sustainable; quality eye-care services.
The vision centres are opened in blocks and districts where it has already done more than 500 surgeries in the past 2 years. These centres help Akhand Jyoti to reach out rural poor patients and provide them eyecare services such as cataract surgeries and spectacle for vision correction.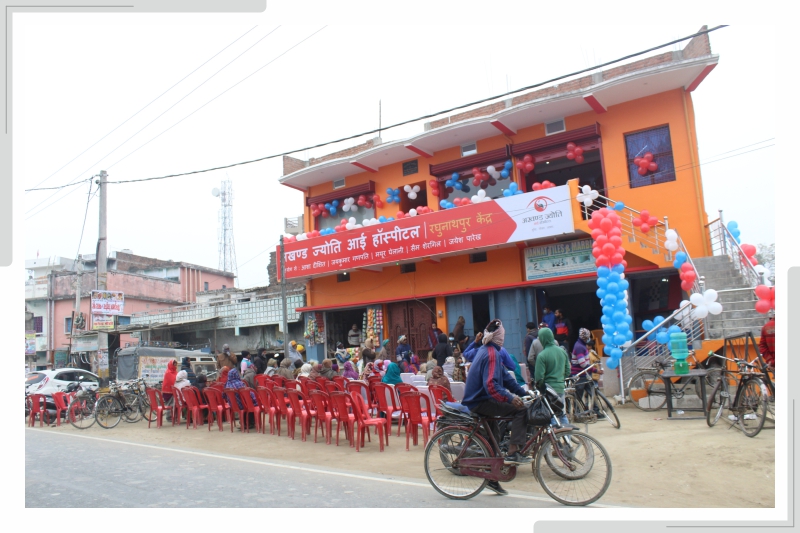 Layout of a vision centre
A typical Akhand Jyoti vision centre is divided in to 7 sections - Registration Area, Patient Waiting Area, Vision Examination Area, Optometrist's Chamber, Optical Fitting Area, Optical Showroom, and staff residential quarters. The setup is not too big yet not too small.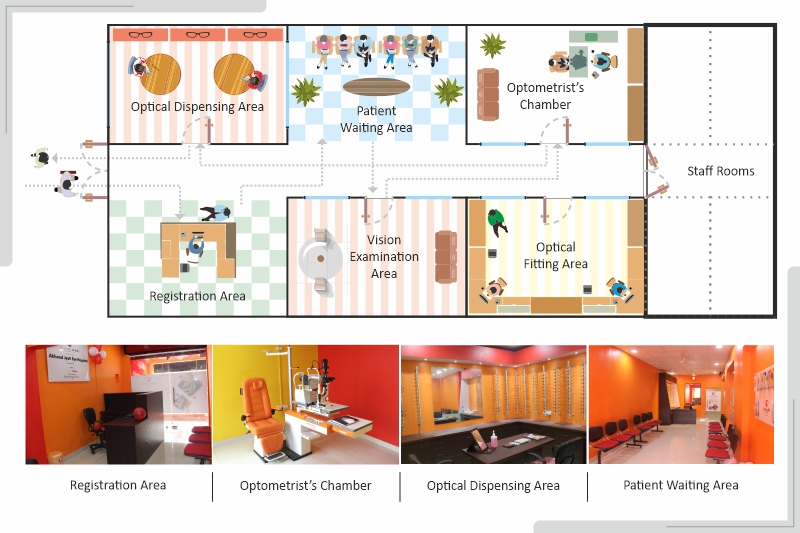 Womanpower
Girls trained as professionally qualified optometrists under Akhand Jyoti's Girls' Empowerment Programme, lead the vision centres.
These girls hailing from rural poor backgrounds are nurtured through the 5 years full-time residential programme, which provides them holistic development, tutoring in school subjects, professional Optometry course, and practical on-the-job training.
These girls represent more than 70% of Akhand Jyoti's managerial and clinical staff.
A typical Akhand Jyoti vision centre comprises of 5 key persons – a Chief Optometrist & Vision Centre Head, a Front Office Executive, an Optical Sales Executive, an Optical Fitter, and a Vision Centre Promoter, and support staff such as Security Guard, Cook, and Cleaner.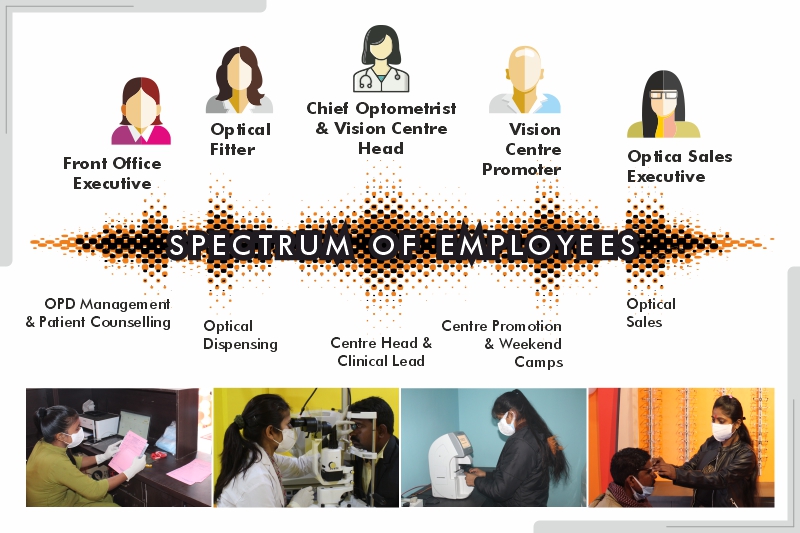 As a product of the system, nurtured from a very younger age, they are infused with the organisational DNA being highly committed to the vision and mission of Akhand Jyoti.
Working of a vision centre
Akhand Jyoti's vision centres are open 6 days a week. It offers services such are refraction and spectacle dispensing, slit lamp examination, eye examination through Auto Refractor, IOP measurement, foreign body removal, medicine prescription, surgery counselling and booking, and speciality eye referral to its hospitals.
Free patients are identified through outreach camps conducted in the catchment area of around 200,000 population. Other patients also walk in to avail paid treatment. The revenue streams are namely OPD fees, spectacle sales, and referral from paid & speciality services.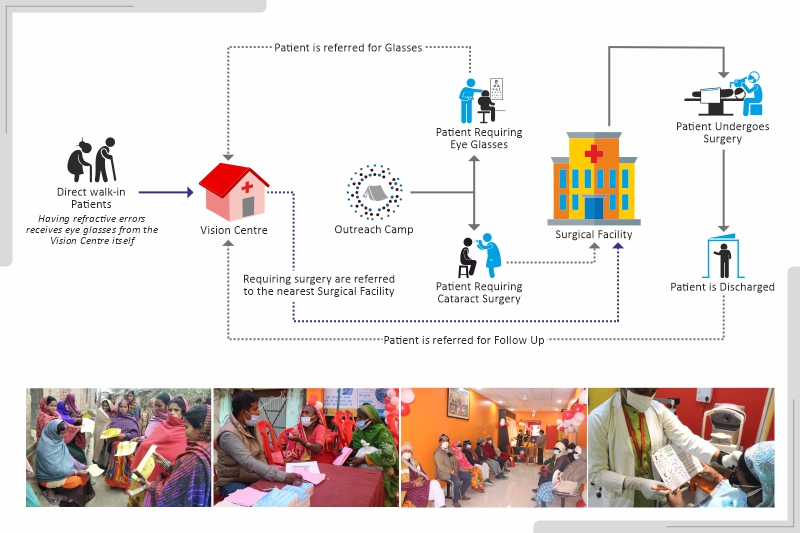 Learning from our vision centres
Akhand Jyoti's vision centres have provided it with immense learnings. They have proven to be effective in reaching and identifying poor bilateral blind patients, who remain hidden in the nooks and crannies of the rural hinterland due to social isolation and stigmatism.
The system is based on the hub and spoke model, where the tertiary and secondary surgical centres act as the hub, while the vision centres function as spoke supporting and feeding patients to the hub.
The vision centres being more time, manpower and cost effective, is easier to set up in comparison to a hospital.
This allows Akhand Jyoti to set them up fast at multiple locations, creating a network thoughtfully webbed across the geography. This network allows Akhand Jyoti to comb the backward topographies for bilaterally blind patients hidden away in the cracks of rural Bihar.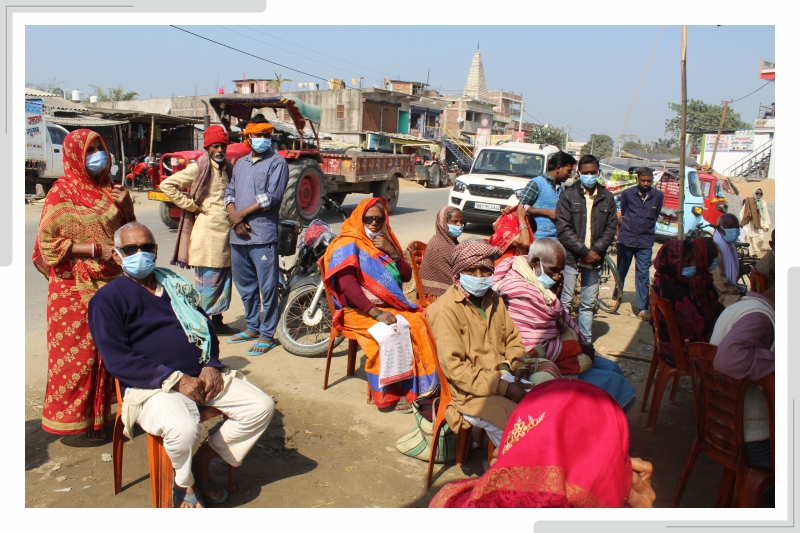 Sustainability of a vision centre
The uniqueness about these vision centres is that they become completely self-sustainable by 18 to 24 months of formation. This enables the vision centres to perpetually continue to serve patients as a self-sufficient unit.
Post the 18-24 months, when the Vison center can generate surplus, the surplus is used to support additional free eye surgeries for indigent patients.
Thus, the one-time investment made by Akhand Jyoti's partners to set up a vision centre, helps to create a legacy of accessible, affordable, and sustainable eyecare in the region in perpetuity for the lifetime of the Vision centers existence.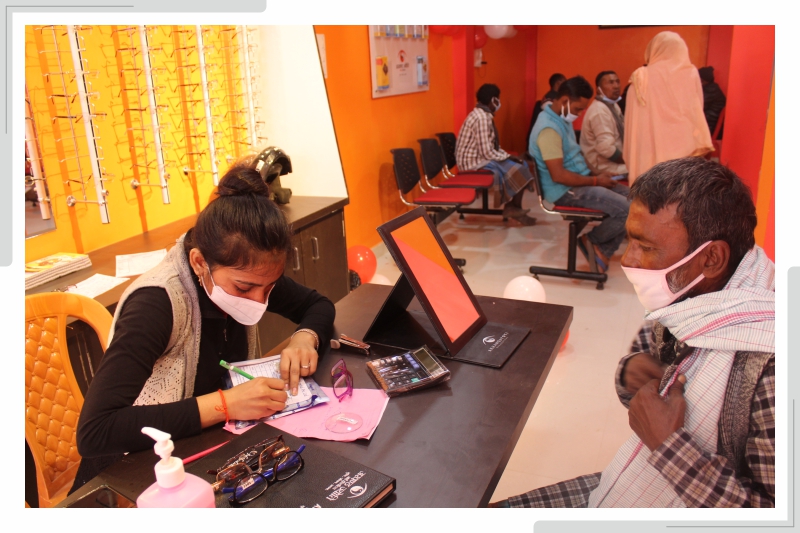 Impact of a vision centre
The impact of the vision centres in improving the eye care service delivery can be viewed from two different perspectives. From the community perspective, the primary eye care facilities become available at the patient's doorsteps at an affordable cost.
The eye care needs of the local community are better addressed by the vision centre in terms of conducting screening camps, education and training programmes. From the provider's perspective, the overcrowding in the secondary and tertiary centres can be minimised since a lot of primary screening and filtering are done in the vision centres. This enables the hospitals to give better attention to the patients who really need advance care.
It is projected that in a year one vision centre would identify around 800 patients for cataract surgeries, provide eye screening to 7,800 individuals and disburse around 2,400 spectacles.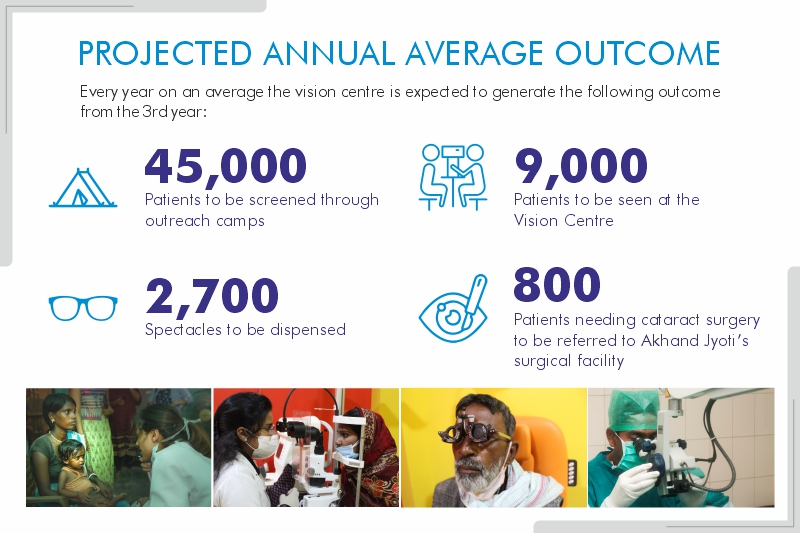 Thanks to our partners
Many thanks to our partners – organisations like CharityVision, Advanced Enzymes Technologies, AshaPops, and Joy Of Helping, and individuals like Ramesh Shah, Prafulla Shah, Hardik Shah, Pradip Shah, Laxmi Narayan C. Rathi, Asha Dixit, Jaykumar Ganapati, Mayur Ghelani, Sam Shergill, Jayesh Parekh, Diane & King Hussain, Daksha Kapadia, Sudhir Kapadia, and C. Farswani for supporting us in establishing these vision centres.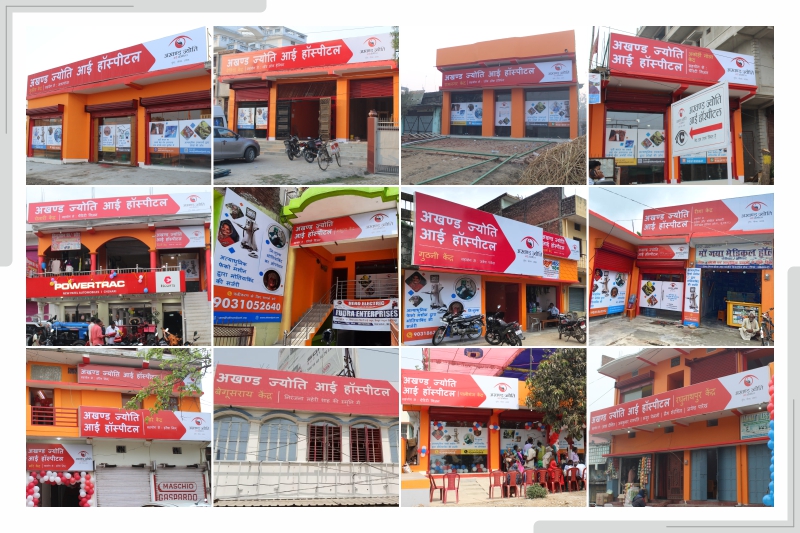 The journey so far
From a one man's dream to a family of 1000+ individuals.
From inducting rural girls into opportunities for employment to empowering over 400 girls to ultimately become social change makers.
From restoring sight of a few hundred individuals to impacting lives and sight of over 12 million people.
From being a small organisation to being partners to several national and international organisations.
From eliminating blindness, reducing poverty, and challenging patriarchy to creating a social movement.
From a 10-bed eye clinic in a village to Eastern India's largest eye care provider with 5 hospitals and 21 vision centres.
The journey of Akhand Jyoti Eye Hospital is a testimony that no dream is too big when fueled with passion, commitment, and a spirit to serve others.