Guddu Gets Over His Grief
I have given birth to Guddu, but Akhand Jyoti has given my son a new life.
- Sounds straight out of a melodramatic film? Well, it's a scene from the movie called 'life', and the characters are very much real.
8-year-old Guddu's mother neither knew what was to be done or how it could be done.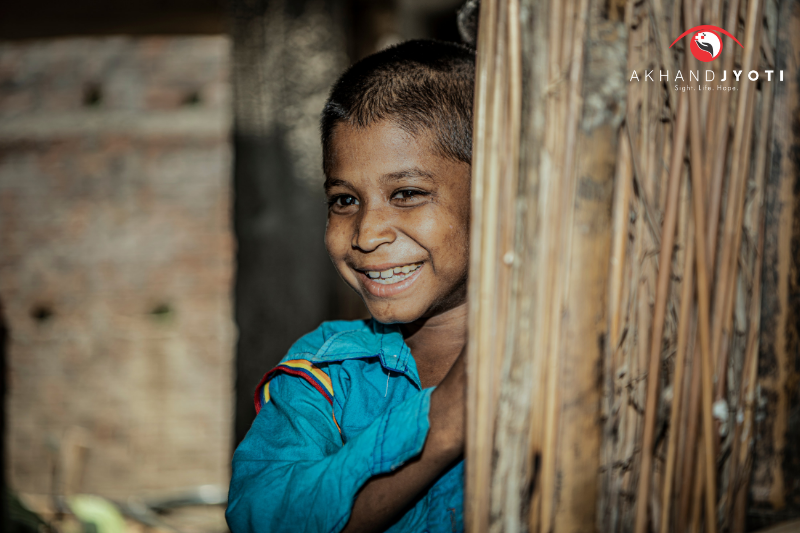 The family had tripled in the last few years. Running the household had gotten tougher with each passing day. There was rarely enough food on the table. Adding to that was Guddu's blindness and a cloud of depression.
There was no end to Guddu's grief.
He was born with juvenile cataracts in both of his eyes and gradually lost his vision. Neither did he ever complain, nor did his parents know about his visual impairment. Teachers at school first identified the problem and informed his parents that he needed special care. They recommended getting his vision rectified before continuing with his schooling. The family couldn't afford treatment. Thus ended Guddu's education just after it had started.
He was taken out of the school and remained at home.
Guddu seldom played, interacted or stepped out of the house. He chose to live in isolation and entirely depended on his mother. His mother often worried that the condition would scar her child forever.
A small operation could put an end to Guddu's ordeal. It could counter the child's visual impairment. It could stop it from threatening to plague his childhood, and perhaps his entire life. It would also keep the parents' despair and helplessness at bay.
Hailing from the underprivileged rungs of rural society, Guddu's parents neither had the means or the knowhow to access eye treatment for their child.
Further, there were no eye care facilities in or around their village. To access such treatment they would have to travel to the nearest city, which meant sacrificing a day's earning and travelling for many hours.
The fear of a doomed tomorrow loomed large on the horizon.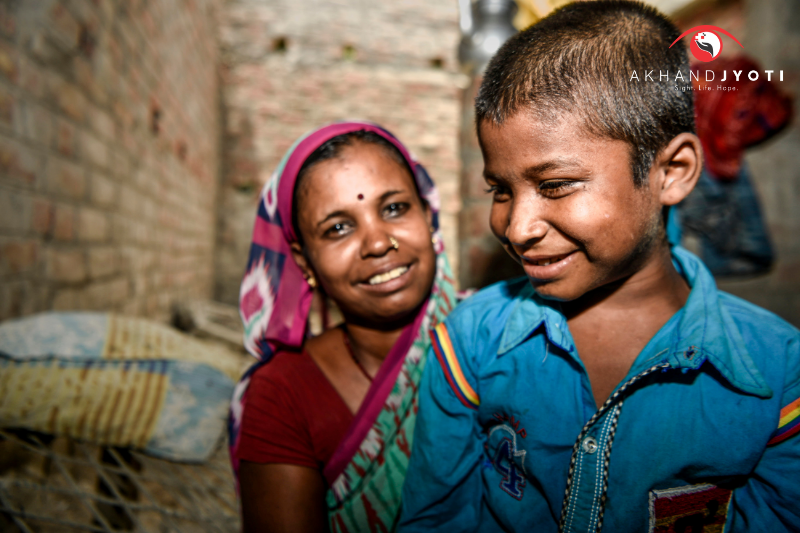 Akhand Jyoti happened to us when we were least expecting it. We had lost all hope and thought our son would have to pay the price for our poverty
- says Guddu's father.
It seemed unreal when he first heard the announcement about Akhand Jyoti organising an eye camp in their village. However, when he reached the camp on the mentioned day and time, he heaved a sigh of relief.
Both the parents were happy when they were offered surgery for Guddu. They had 'nothing to give' they sceptically told the staff. "We want nothing in return," replied the Akhand Jyoti optometrists checking Guddu.
A couple of weeks later, it was time for Guddu's surgery. His mother accompanied him to Akhand Jyoti's base hospital at Mastichak, where he underwent an operation of the left eye. His surgery was successful and he recovered with restored vision in his left eye.
Thus ended Guddu's grief…
Now, after the operation in March, Guddu is looking towards a brighter future.
This year is special for us
- says the happy parents.
They flash a broad smile while their eyes well up. They shed tears of joy when they see their son showering love to his siblings. They feel overjoyed when they find him playing with children of his age.
The parents are cherishing every bit of this reality. They're now saving up to send Guddu and his siblings to the nearby school. They hope to admit them soon.